CoachHub Summit
The Change Blueprint
Strategies for Organisational Transformation
October 5th, 2023 - 1:30pm-4:30pm
Searcys at The Gherkin, 30 St Mary Axe, London EC3A 8BF
Featuring expert speakers from: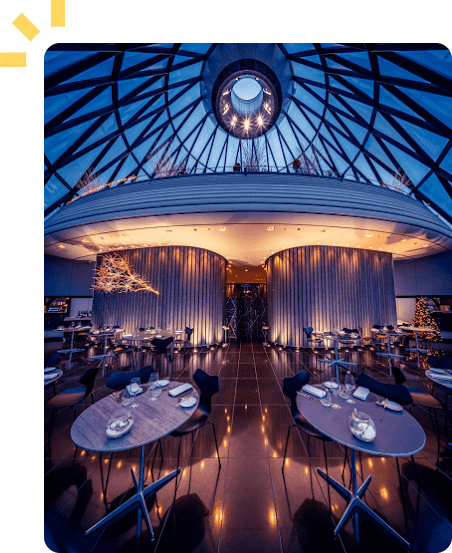 Join us atop the iconic Gherkin building in London for panoramic views of the London skyline and connect with like-minded HR leaders, industry experts, and professionals who share a passion for driving organisational excellence.

Our experienced team of Behavioural Scientists will share their deep expertise on fostering transformative change within organisations. You will discover the latest research, methodologies, and best practices that drive impactful growth and development in times of uncertainty.

Gain practical insights, first-hand success stories, and actionable strategies to implement within your own organisation from our various client speakers who will share their own stories of transformation.
All speakers at the summit
We'll talk about ...
Transformation, Talent Development, Executive Coaching, Inclusive Leadership and much more!
A lineup of international speakers sharing science-based findings from the coaching and learning research as well as practical industry insights await you. Register now and join the conversation!

Networking & People
Network with thought leaders, HR decision makers and forward thinking business leaders from the UK and Ireland

Knowledge & Innovation
Learn great insights from world renowned experts in coaching psychology, behavioural science, learning and talent development.

Inspiration & Experience
Gain practical insights, firsthand success stories, and actionable strategies to implement within your own organisation.
13:30 - 14:00
Registration
14:00-14:10
Welcome
14:10-14:40
What we know about change, stress and well-being
Laurel McKenzie, Lead Senior Behavioural Scientist - CoachHub
14:45-15:15
HR Leaders Panel - Organisational Change and Transformation - Atlas Copco, Fishawack, JTI
15:15-15:30
Break
15:30-15:50
Talent and Decision Making: The cost of Bias
Mat Piaggi, Behavioural Scientist - CoachHub
15:50-16:10
HR Leaders Panel - Engaging Emerging Leaders through Change - Amazon, Virgin Atlantic, Softbank

16:10-16:20
Closing Remarks - Lucy Wheeler
16:20-17:00
Cocktails and Networking
The CoachHub Summit will be taking place on Level 39 and 40 of The Gherkin.
The Gherkin is a short walk from many key stations. For entry to Searcys, please enter through The Gherkin's ground floor reception and ensure you bring photographic ID with you to enter the building. A member of the CoachHub team will be there to welcome you at level 39.
Closest Stations:
Fenchurch Street - 3 minutes
Aldgate - 5 minutes
Liverpool Street - 7 minutes
Bank - 8 minutes
Where is it?
Searcys at The Gherkin
Join us for an exclusive cocktail reception at the top of the Gherkin, surrounded by breath-taking panoramic views of the vibrant London skyline. Experience an insightful afternoon of networking and inspiration as you connect with fellow HR and L&D Leaders.

This summit is a unique opportunity to gain invaluable knowledge, collaborate with industry leaders, and take your HR strategies to new heights.

Searcys at The Gherkin, 30 St Mary Axe, London EC3A 8BF